Once inhabited by the Chumash Indians, Oxnard is now the most populaced city in Ventura County.
Settlers soon turned it into a Ranching area. And then by the mid-20th century the city  grew and developed the areas outside the downtown with homes, industry, retail, and a new harbor named Channel Islands Harbor.

See all Real estate in the city of Oxnard.
(all data current as of 11/17/2018)
Listing information deemed reliable but not guaranteed. Read full disclaimer.
Oxnard is located on the beautiful Southern California coast, and is the most populous city in the County of Ventura. It is about 60 miles northwest of Los Angeles and 35 miles south of Santa Barbara.
The city of tranformation. It has gone from cattle grazing to sugar beets and lima beans, to orchards, to strawberries, to supporting the defense industry. It has finally transformed itself into a city with a balanced and diverse industrial, housing, and commercial mix.
Besides all of the industry and agriculture, there are two military bases, And a full service deepwater port.  This port is the only deep water port between the Port of Long Beach and the Port of San Francisco as well as the only military deep water port between San Diego Bay and Puget Sound in Washington.
The Oxnard neighborhoods all work together to make the community a cleaner, safer, better place to live. There are 43 active Neighborhood Councils within these Districts.
Del Norte District
Central District/Downtown Oxnard
Northeast District
Northwest District
Southcentral District
Southeast District
Southwest District
Below is a map of the Councils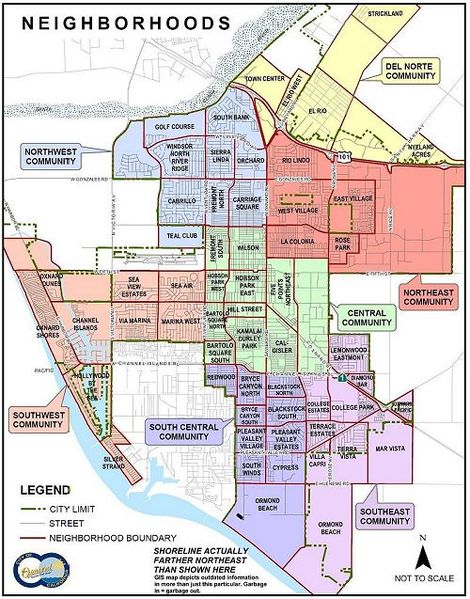 Participants in Neighborhood Councils provide focus and coordination at the neighborhood level  and are a liason with the City Fathers.
Today the town located just 9 miles from Ventura, features many new developments as well as established neighborhoods: Seabreeze, Aldea del Mar, Victoria Estates, River Ridge, Summerfieldand Lionsgateare just a few. North Oxnard is close to the 101 for quick commutes to Camarillo, Ojai, Ventura, and Santa Paula. Oxnard has many beach communities as well. Silver Strand, Hollywood Beach, Hollywood by the Sea, Oxnard Shores, Mandalay Bay are near Channel Islands Harbor, the "gate way" to the Channel Islands. Port Hueneme, the only deep-water port between Los Angeles and San Francisco is next to Oxnard featuring Surfside I, Surfside II, Surfside III, and Surfside IV, Anacapa View, Harbour Island and The Colony.